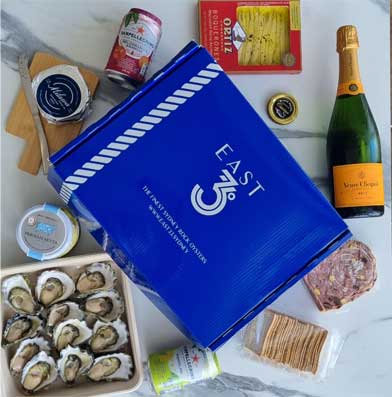 Available for purchase – our famous Wallis Lake Paddocks (Sydney Rock Oysters) can be purchased either unshucked or shucked by our farmers. Our oysters are delivered daily, direct from our East 33 paddocks located in the pristine waters of Wallis Lake in NSW.
Also available in the Farm Gate is a selection of Artisanal Charcuterie, Ortiz White Anchovies and Cheeses, Sturgeon Caviar and a wide range of San Pellegrino flavoured waters.
Customised hampers are also available, which will consist of Walls Lake Oysters, a selection of artisanal cold meat, regional cheeses and San Pellegrino flavoured water.
Salami, bresaola, patés etc, San Pellegrino flavoured waters.
Pre-Order Your Oysters Now!
(pickup available between 12pm-3pm WED-SUN)